Naveda comes with tons of striking features, in which MultiConcept feature makes it more different. Besides offering all basic features a website need, this cool theme gives users opportunity to personalize your website according to their own business. And our Naveda can make much more than other MultiConcept themes can do. The theme shows you single and ready-made homepages for most of the business fields (Planter, Furniture, Clothing, Shoes, Bags, and Watches).
Do you believe that these 6 specific homepages offered by Naveda can empower customers a lot?
MultiConcept is not a strange definition anymore in the current theme market. Nonetheless, are you sure how your site looks like when it goes with this theme? Many of us get the same response "NO"! They know that these themes are multipurpose, but nobody shows you how to craft the theme following their aim at best. It's time to visit Naveda – our MultiConcept WordPress Theme, we surely get a good treat. You can directly get your homepages which are made with specific aim as Planter, Furniture, Clothing, Bags, Shoes, and Watches. Our developers follow each category to create the best layout displayed for each.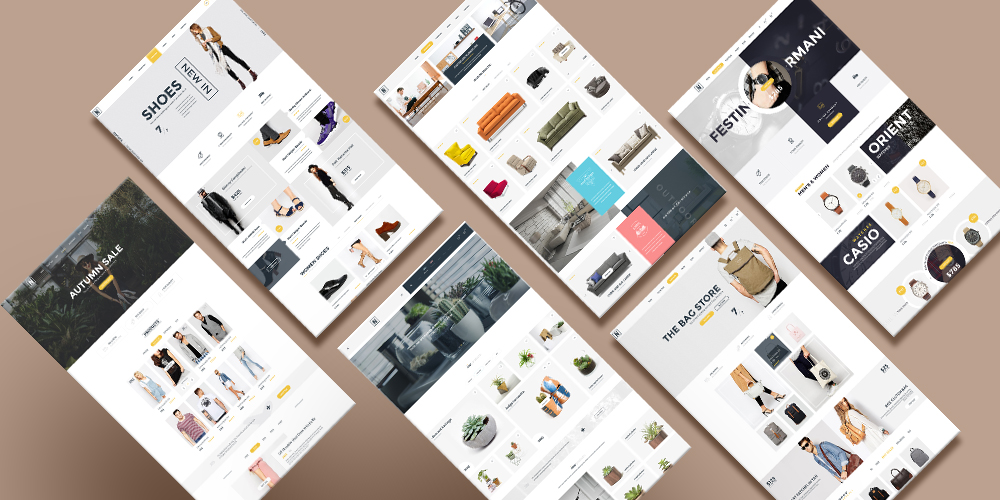 Six Specific Homepages
You no longer have to wait for complicated stuff to own your whole theme, you now conveniently get your trial experience for your choice directly. The theme demo comes with a real look that your website can be built later.  Instead of confusing among a bundle of plug-ins and complicated rules, Naveda shows you your real online store look as similar to your wanted site as possible.
If you are counting how many homepages we offered but not visiting them, you are in a wrong way. Naveda shows you how deep your products can be displayed. We profoundly research and discover what make each store different.
If you are building a planter, we show you the best layout which shows your trees in the most beautiful look. In case, you put your passion in opening a Watches online store; we give you another layout with lots of small parts inside. By this way, you show more products and express your color as well as your style more clearly. Just two samples to make you clearer about what is our dedication to customers. More than 4 other distinguished homepages and more attracts about Naveda are waiting for you to discover at Naveda – MultiConcept WooCommerce WordPress Theme – Valuable Gift for an Online Shop post.
Let choose the layout which meets your need and get a quote: Whether this layout is better than that you create yourself or not? Are you wasting much time to create your own website? Does each homepage display products smartly and conveniently?
Finally, you should give your decision for what you are worth to enjoy! Naveda is here with the ambition of shortening your successful way; we love to see you have more happy time to do your business than losing too much time to craft your site.