Nowadays, WordPress is one of outstanding CMS sources and more and more people are using WordPress to build one website. For example blog, shop, etc.
There are many excelling features of WordPress that sometimes users do not pay any attention. Have you ever heard about "schedule post" feature of WordPress blog?
In this article, we will show you how to auto schedule post in your WordPress Blog.
Now let's start!
Why do you need to Auto-Schedule WordPress Posts?
You are building your website with posting many posts on each day. But, your family wants to go a long vacation on a sunny sexy beach. So, how can you still update your blog during that time and your family is still happy with vacation?
The solution is given that you need to schedule a post for your WordPress Blog. You can do hard work to prepare several posts at a time before going on holiday and schedule to publish the post day by day to keep it updated. Now you can freely enjoy your trip and your readers still have new posts to read daily.
How to Schedule Post in WordPress
You can schedule blog posts to automatically publish themselves at any time in the future. After content is created and added to the post,  you may click Publish button to publish the post right away. However, you also can schedule to post by Clicking "Edit" next to Publish option immediately.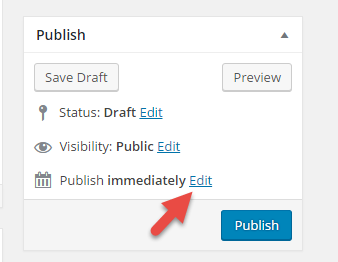 You will see the field date, month, year and even hour to schedule post.
Choose the appropriate schedule post for your website, click OK to save the date, then click Schedule button.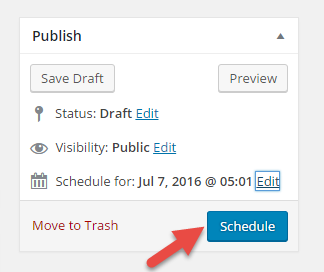 The post will not appear in your blog right then but wait until the time you set to display there.
Schedule post using plugins
There are many plugins you are using to schedule post. In this post, we will show two helpful plugins for your website.
WP Schedule Posts
This plugin allows you to enable a widget in the dashboard or in admin bar which will show all future Schedule Posts. It's useful for the multi-author blog.
Link to Download:  https://wordpress.org/plugins/wp-scheduled-posts/
Publish to Schedule
Using this plugin, you do not need to manually choose the date when a post is published. You only configure the schedule of plugin, it will automatically schedule your posts when you click Publish. You can see when your post is scheduled to appear, or you do not choose to see it.
Link to Download: https://wordpress.org/plugins/publish-to-schedule/
Above, this is tutorial how to set schedule post for WordPress Blog. Don't forget to share this post if it's helpful to you.