You are a WordPress newbie, and you make mistakes. That's fine! All of us make mistake, but we learn from our mistakes. However, it's better if you can get away them from others. The post will show you 7 common mistakes a WordPress beginner might make.
#1. Not creating a WordPress Backup   
Backup is the first alert for you! You cannot ensure all your work will be smooth as you wish and when an error occurs, you might lose all without creating a WordPress backup, and your regret at that time is late. The good advice is creating automatic backups in WordPress.
Fix:  You can find your belief in some of the trusted backup plugins: BackupBuddy, VaultPress, UpdraftPlus, and BackWPup or more at our previous post;  Five powerful WordPress Backup Plugins for Safety.
#2. Ugly Permalink Structure
Normally, the default permalink of your site is automatically assigned with the format something like http://www.yoursite.com/?p=123/
It looks not professional, isn't it? And not good for the SEO performance of your site.
For building a good website which is welcomed by users, Webmaster must build an SEO – friendly permalink structure which is effective in creating shareable and identifiable content. Hence, editing the permalink is a must.
Fix: It's easy to edit the permalink. Please visit WordPress dashboard => Go into Settings => Select Permalink.
In this part, you can edit the permalink structure which is relevant to the title of your page. Edit "Post name: for better SEO. (Your keyword should be used here).
#3. Boring Favicon
Favicon is your identification. Absolutely right! Favicon is just a little icon that appears with your site name in the browser's tab. Though it's small, it will tell people who are you. And a good and informative favicon is great in branding your site.
Not paying attention to this small piece is a big mistake you make. You miss the opportunity to show your business.
Fix: Now, you can easily create a beautiful and informative favicon yourself with the support from Adobe Photoshop, Canvas, Favicon Generator, or Favicon.CC and more with the required size (
#4. Forget the "Uncategorized" option
If you ignore the "uncategorized" section, all your products in your website will be a mess. The advice for you is visiting the section and choose the relevant category for your content. With this action, your site will get well organized by categories and readers can easily find the content they need as quick as possible.
Fix: Just following some steps below: Go to Posts => Categories => "Uncategorized" – Click "Quick Edit" and change the category name and slug => Click Save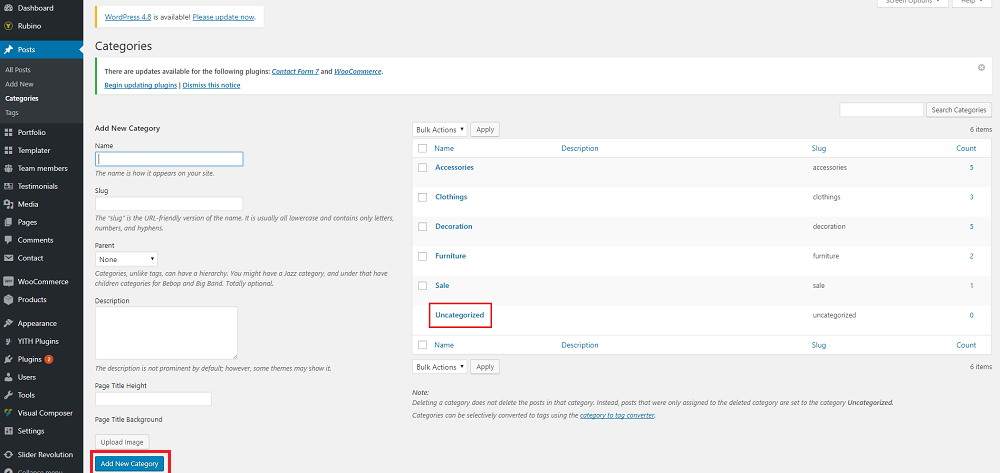 #5. Not removing the "Just Another Blog" Tagline
As normal, WordPress will add a default tagline "Just Another Blog" to every WordPress installation and it's will be indexed by Google. Hence, you need edit it to avoid looking unprofessional with users. You should change it into relevant words with your site. For instance, when the site is about WordPress theme you can set the tagline "Just Another WordPress".
Fix: Absolutely simple! You only visit Settings => General => And Edit the tagline.
#6. Not Block Search Engine
You must sure that you don't check the box: "Discourage search engines from indexing site". If not the search engine cannot find your site online. Let's check whether you check that box or not first.
It takes you one minute but keeps you away from the risk and ensure your site can be found online.
Fix: Settings => Reading => The box "Discourage search engine …" must be blank.
#7. Ignoring WordPress Updates
Someone is afraid of updating and backing up the WordPress sites though it so simple, one click only. They think about wasting time but if not they will miss lots of wonderful things fixing some old errors, new functions and face to get hacked.
Currently, Theme developers often integrate the auto update the theme and plugin function in their theme. And the worry about forgetting to update is no longer. For instance, Rubino – awesome e-commerce theme from YoloTheme team also offers this great option.
After all, we hope you get a good reading from this post before starting your online business to avoid these mistakes which we made before. If you also made mistake and learn lessons from theme please share with us for another newbie can get away from them.