Minimalism became a popular web design style over the past few years though it seems to a style that against current trendy and busy design practices. And it's not hard to understand this trend, all designers finally aim to the only rule: functional design centered on quality content.
As for now, portfolio still comes in the popularity due to meet the majority of users including designers, photographers, artists, creative professionals, creative business and anyone else looking to showcase their work in a profession. Until now, this niche still attracts lots of WordPress Theme developers and being on the list of most popular WordPress theme niches you must care in 2017.
We found these WordPress themes which are best with advanced theme options, tons of useful shortcodes, portfolio page variations, and other powerful functionalities. Just keep this list for a successful business, guys!
Get inspired with four new portfolio templates 2017
Before going with 6 best new themes, you should get inspired with the awesome list of the newest portfolio templates:
Rubino is a minimal, creative and modern design for minimalist websites including Portfolio, Shop, Product design, Agency, Blog, Photography, Showcase types and Business site as well.
This versatile template allows users easily customize their unique site with more than 8 attractive homepages, 5 portfolio layouts, 7 shop pages and more which are fully layered and editable PSD files. Users will find Rubino the dedicated and trendy features as a new wind of the creation into their own site.
This portfolio template comes out with the unique style and clean code. Here is a great choice for Minimal Portfolios, Agencies, Freelancers Portfolios, etc. Erika stands out with using popular responsive frontend framework Bootstrap 3.x, HTML5, CSS3, jQuery and so many modern technology. Enjoy this template now!
Mim is an awesome portfolio template which is built with Bootstrap, using HTML5, CSS3 and jQuery. This template attracts users with the clean and modern designs, much suitable for a personal portfolio blog.  Also, it's super easy to customize and also well Documentation, so it'll suit your needs.
4. Minify – Minimal Portfolio Template
Minify is the best suit for many purposes starting from minimal portfolios, agencies, freelancers, photography, corporate and much more. Especially, the modern design and clean code of Minify impress customers a lot.
Six best New Portfolio WordPress Themes 2017
Luka is a beautiful portfolio WordPress theme which perfectly fits for photographers. You will get inspired with a fine vibe of elegance and charm in this theme. Another keynote of this design is delicate typography and decorative graphic elements, which are great for getting spectacular photos viewings.
Further, customers can easily style portfolio pages and an option to create multiple portfolio pages with different galleries in each. The multiple blog layout options with galleries inside posts make Luka stunning with customizable variations.
The premium WordPress theme aimed at creators who want to showcase their work in a beautiful, eye-catching design. This theme is aimed at photographers, designers, illustrators and many or any other type of creative work.
This theme is built in WooCommerce platform with more than 5 home pages and 5 portfolio pages which allow users get more styles to select.
Kraft is minimal portfolio WordPress Theme offering various portfolio pages and functional features which are useful to create a beautiful portfolio site. Users love the simple design, still trendy this theme created.
Cooper gives users a feeling about a professional personal portfolio WordPress theme. Similar to other themes, Cooper was made for designers, photographers, illustrators, video producers, architects and other who need a comfortable, attractive and effective way to share their work with clients.
Livo has blown a new wind in the portfolio field by catching the latest trend of design & technology. It's very easy to use & fully customizable theme, you can create a professional portfolio without spending too much time. The most important thing is the result will amaze you.
6. Light – Minimalist WordPress portfolio theme
Here is an amazing portfolio WordPress theme which creates an eye-catching look of anything you love to showcase. Light includes amazing portfolio effect & using this theme is super easy for the user. The integrations of premium plugins also make this theme be a favor of customers.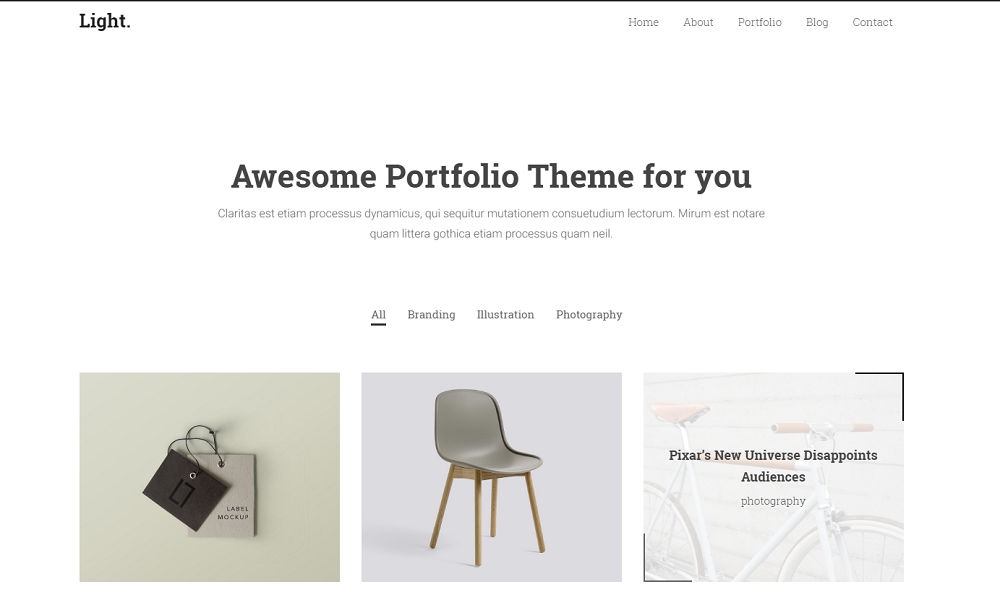 Briefly, this sharing list will be a part in your choice if you are gonna build an awesome portfolio site and wish to shine your showcase into the World. Also, this post shows you how this trend is changing. All busy elements such as social media widgets, complex slider plugins, and domineering animations are out. Instead, you'll want gorgeous typography, plenty of color options, and functionality tailored towards displaying your content front and center.
Finding any creative portfolio themes which impress you, please share all in the comment below!